Marginal Hear Our Voicese
Sanae Takahata & Creative Kids Club Ningyocho
At Jisshi Square , Kodenmacho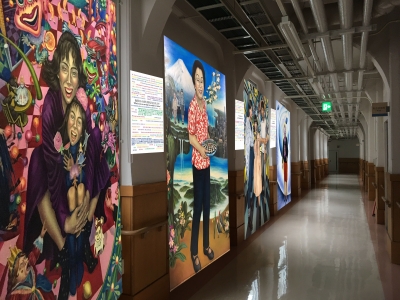 Tucked away on a quiet street in Nihonbashi-Kodenmacho, Tokyo, Jisshi Square & Park is located where once stood (during different eras) a prison, execution ground, elementary school, Buddhist temple and now stands a nursing home and kindergarten. From July 10th to August 7th, Jisshi Square will be the home for Sanae Takahata's Tokyo Biennale Exhibition "MARGINAL: Hear Our Voices."

This exhibition will feature 21 oil paintings created after in-depth interviews with her subjects (1991-1995 and 2012-2021) and posters featuring answers received from global participants in a 42 part questionnaire. Also on display will be the interview records and photos that accompany the oil paintings. Symbolic of the artist's "outsider" sentiments, the artwork will be exhibited inside (one room) and outside (in the hallways). Inside the room represents "acceptance & conformity" The hallways represent our "Marginal Identity." The hallways belong to everyone and at the same time no one. VOICES past and present will emanate from Jisshi Square. Details below.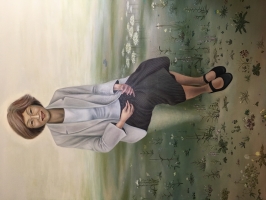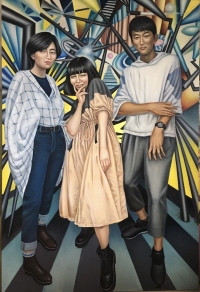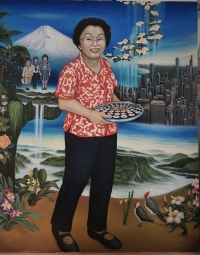 TOKYO BIENNALE 2020/2021
https://tb2020.jp/project/marginal-hear-our-voice/
Date:

Saturday, July 10th until Saturday to August 7th
Closed on Sunday and Holidays

Time:

11:00 - 18:00

Venue:

Jisshi Square,
2F Hallway and the Kodenmacho Area Meeting Room
5-1 Kodenmacho, Nihonbashi, Chuo-ku

Subway:

Hibiya Line Kodenmacho Station, 2-minute walk
< SNS >
Facebook: Creative Kids Club Ningyocho
Facebook: '"¨'•c Sanae Takahata
Instagram: sanaetakahata / creative_kids_club_ningyocho
Twitter: @sanaetakahata