WEAR ME / Life's Changes and Shifts
Yokohama
February 22 - March 5, 2011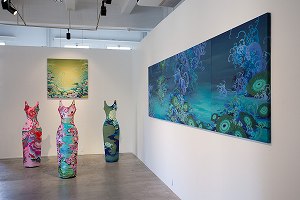 Sanae Takahata well known for her WEAR ME dress shaped mixed media sculptures will be showing her new work at the Galerie Paris in Yokohama. This on going series which started in 2001 has been shown in Kyoto's Honenin Temple and renowned art galleries in Tokyo and Hong Kong. Also on exhibit will be new paintings and wearable art pieces.
Date: Tuesday, February 22, 2011- Saturday, March 5, 2011
Time: 11:00 - 18:00
Opening Reception: February 25, 2011 (17:00 - 20:00)
At: Galerie Paris
Mitsuibussan Building 1F, 14 Nihon-odori Naka-ku, Yokohama City, Kanagawa
Telephone: 045-664-3917
http://www.galerieparis.net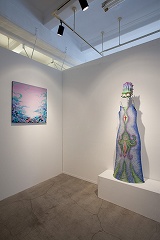 Artist's Statement
Wearing a thin cloth of consciousness, we come into contact with the outside world. Interaction changes and shifts my consciousness. I project this ever changing and shifting consciousness on to familiar dress shapes.
WEAR ME is an on going portrait series of my consciousness that I started in 2001. As the base of my sculptures I use sheer white dresses that actually or symbolically fit my body. The dresses are like a second skin that is intimately familiar and a vessel that comes closest to containing my physical self. This base allows me to freely express my consciousness in flowing colors and shifting textures. These dress shaped sculptures are self portraits from different periods of my life.
I cannot stop the passing of my one life time, the changes in the lives of beloved others nor the daily flow of my surroundings. It is against this impermanence and brevity of life that I strive to create eternal time in my work.
Sanae Takahata


Life's Changes and Shifts - Panels 1, 2, 3 & 4
(100 cm x 400 cm) Acrylic on Canvas 2010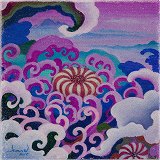 Crystals
(8.3 cm x 8.3 cm) Acrylic on Canvas with Glass Beads 2010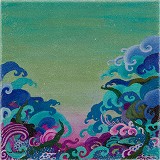 Evening Calm
(8.3 cm x 8.3 cm) Acrylic on Canvas with Glass Beads 2010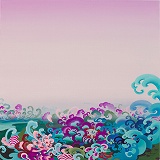 God's Ocean
(60.6 cm x 60.6 cm) Acrylic on Canvas 2010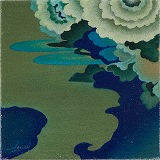 Hakone Roots
(8.3 cm x 8.3 cm) Acrylic on Canvas with Glass Beads 2010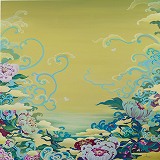 Miyake Sisters on Mount Minobu
(100 cm x 100 cm) Acrylic on Canvas 2011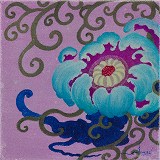 Plateau Breeze
(8.3 cm x 8.3 cm) Acrylic on Canvas with Glass Beads 2010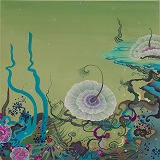 Rousseau's Garden
(60.6 cm x 60.6 cm) Acrylic on Canvas 2010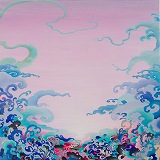 Ryukyu Dance
(80 cm x 80 cm) Acrylic on Canvas 2011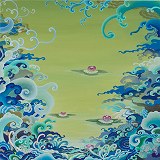 Saint Francis Xavier
(60.6 cm x 60.6 cm) Acrylic on Canvas 2011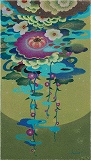 Hakone
(9 cm x 33.5 cm) Acrylic on Canvas with Glass Beads 2010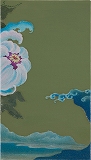 Mountain Breeze
(9 cm x 33.5 cm) Acrylic on Canvas with Glass Beads 2010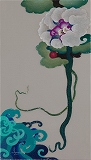 Whisper
(9 cm x 33.5 cm) Acrylic on Canvas with Glass Beads 2010


WEAR ME#1 Lotus (Front)
134 cm x 63 cm Acrylic on Canvas with Glass Beads 2001


WEAR ME#1 Lotus (Back)
134 cm x 63 cm Acrylic on Canvas with Glass Beads 2001


WEAR ME #23 New Year (front)
141 cm x 44 cm Acrylic on Canvas with Glass Beads 2008


WEAR ME #23 New Year (back)
141 cm x 44 cm Acrylic on Canvas with Glass Beads 2008


WEAR ME #24 Celadon (Front)
141 cm x 44 cm Acrylic on Canvas with Glass Beads 2008


WEAR ME #24 Celadon (back)
141 cm x 44 cm Acrylic on Canvas with Glass Beads 2008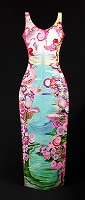 WEAR ME #25 Okinawa Dance (front)
145 x 45 cm 2009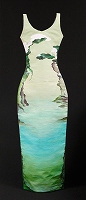 WEAR ME #25 Okinawa Dance (Back)
145x45cm 2009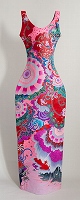 WEAR ME #26 Dreamy Night in Hong Kong (Front)
145 cm x 45 cm Acrylic on Canvas 2010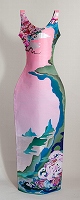 WEAR ME #26 Dreamy Night in Hong Kong (Back)
145 cm x 45 cm Acrylic on Canvas 2010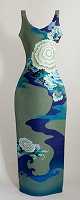 WEAR ME #27 Hakone (Front)
145 cm x 45 cm Acrylic on Canvas 2011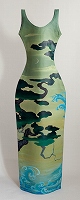 WEAR ME #27 Hakone (Back)
145 cm x 45 cm Acrylic on Canvas 2011
---
Photo by: Takeshi Fukuhara